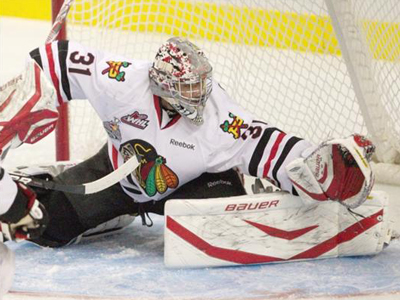 Edmonton - May 5, 2013 - Twenty-four hours after watching the Edmonton Oil Kings steal away home-ice advantage in the Western Hockey League Championship Final, the Portland Winterhawks responded with another stellar effort in what was pretty much a must-win situation.

Goals from Ty Rattie, Brendan Leipsic and Oliver Bjorkstrand paced the Winterhawks to an easy 3-0 win, over an Edmonton side that seemed content leaving the Rose Garden Arena with the split they were looking for.

For a second straight night, netminder Laurent Brossoit was bombarded early on but this time Portland would find a way to sneak one past the Oil Kings starter.

Rattie would give them their first lead of the finals, banging home a loose puck for his sixteenth of the playoffs, with the Winterhawks on the power play. The icebreaker came with Travis Ewanyk in the box for charging, which was Edmonton's third consecutive minor penalty, in the opening eight and half minutes of action.

It was a trend that would continue throughout the evening, as the Oil Kings found themselves shorthanded on seven separate occasions. Just as they did in the series opener, Portland has possession of the puck for the vast majority of the first, holding an 11-3 advantage on the shot clock and were rather unfortunate to have not extended their lead.

Brossoit did all he could to keep his team in it, including a huge stop off potential first overall pick Seth Jones on a breakaway. It was a familiar sounding theme for Derek Laxdal and company but on this night, the play of his number one netminder would not be enough to pull off the win.

To Edmonton's credit, they bounced back with a far better second period but were unable to get on past Mac Carruth, who made eleven of his sixteen saves on the night, during the middle frame. Portland would respond with a pair of late markers before the period was out, to put this one out of reach.

Leipsic snapped home his eighth of the post-season, on a shot Brossoit would probably like to have back. Hard to lay blame on a guy for getting beat on a two-on-one break but the Oil Kings starter was beat clean to glove side, after losing track of his net. It was far from a stinker but one you would generally expect last year's WHL Playoff MVP to come up with..

Just over a minute later, Portland would make it a three goal bulge, courtesy of an absolute rocket of the stick of Bjorkstrand. The thirty goal man unleashed a blast from just outside the hash marks, which Brossoit could only wave at, as the Garden faithful exploded on cue.

Edmonton had nothing left in the tank over the final twenty, collecting all of two shots on net and giving them a grand total of five, during the the first and third periods. There is no question they were the second best team on the ice during the opening two games of the WHL Final but they go home with the split they were looking for.

Mission accomplished.

Game three and four will go on Tuesday and Wednesday night in the friendly confines of Rexall Place, as the Oil Kings look to respond with a little home ice dominance of their own. As expected, this one appears to have seven game series written all over it and hockey fans couldn't be happier.