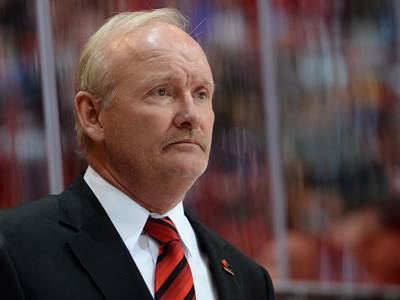 Edmonton - May 6, 2013 - Two games into the 2013 IIHF World Championship, it is pretty clear this year's edition of Team Canada has a ways to go in finding their overall game.

After sneaking past Denmark in the tournament opener, Canada came out with another disjointed effort against Switzerland, falling 3-2 in a shootout.

The loss leaves Canada in third place in Group S with four points, one back of the Swiss and two behind Norway.

For a the second straight day, the Canadians came out flat as could be and once again, found themselves trialing after the opening twenty minutes of action.

An awful turnover from Philadelphia Flyers centre Claude Giroux, was quickly turned up ice into a two-on-two rush and hammered home for the opening goal by Denis Hollenstein.

Giroux's turnover left the D pairing of T.J. Brodie and Jay Harrison on their heels and caught starter Mike Smith deep in his net, as he was beat from well out by Hollenstein. It was definitely a shot Smith would like to have back but Switzerland had been the better side and were rewarded for their hard work.

Canada did bounce back with goals from Andrew Laad in the second and Matt Read in the third, the second of which being an absolutely dreadful goal on the part of Swiss starter Martin Gerber, taking their first lead of the night. This despite playing as uninspired a brand of hockey one would ever care to see from a bunch of players wearing the Maple Leaf.

New York Islanders prospect Nino Niederreiter would even things up at two piece, kicking home a loose puck under an out of position Smith, during a mad scramble in the blue paint. Obviously, the goal should have been waved off but with just under seven minutes to go, one would have thought the Canadians would have turned it up the rest of the way.

That certainly didn't happen and off to overtime and the shootout they went.

Reto Suri and Matt Duchene were the only two skaters to beat Gerber and Smith in the first seven rounds of shooters but Suri would break the deadlock, beating Smith for the second time in the skills competition, with a dirty little dangle. Gerber did the rest, stopping Duchene for the second time in three attempts, to clinch the victory for the Swiss and send Lindy Ruff and company back to the drawing board.