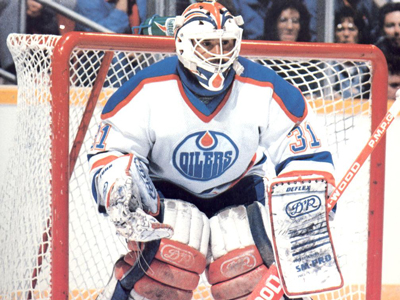 Edmonton - May 20, 2013 - Despite playing far from their best hockey during Game One of the 1988 Stanley Cup Final, the Edmonton Oilers still found a way to jump out to an early 1-0 series lead over the Boston Bruins.

While the B's were coming off an emotional seven game series win over the New Jersey Devils, Edmonton had lost just two games through the the first three rounds of the playoffs.

With one team emotionally drained and the other rusty from a lack of activity, it wasn't overly surprising to see the two sides struggle in the curtain raiser.

Boston generated only a handful of quality opportunities, as their fourteen shots on net would suggest, but Edmonton still required Grant Fuhr to come up with a couple of big saves to secure the win.

After going with former Oiler Andy Moog in his old stumping grounds for the opener, head coach Terry O'Reilly decided to go back to his regular starter for Game Two, in Reggie Lemelin for Game Two.

At the other end of the spectrum, Glen Sather saw no reason to make any sort of lineup change and who could blame him. While the top two lines were relatively quiet in the opener, it would only be a mater of time before Wayne Gretzky and company started to impose their will.


Forwards
Esa Tikkanen - Wayne Gretzky - Jari Kurri
Glenn Anderson - Mark Messier - Craig Simpson
Geoff Courtnall - Craig MacTavish - Norm Lacombe
Mike Krushelnyski - Keith Acton - Kevin McClelland

Defencemen
Kevin Lowe - Craig Muni
Steve Smith - Randy Gregg
Marty McSorley - Jeff Beukeboom

Goaltender
Grant Fuhr


Game Two
Unlike the series opener, the Oilers pressured the Bruins from the drop of the puck and were handed a power play inside the first minute. While Edmonton were unable to convert on the early man advantage, due in large part to a perfectly timed poke-check by Lemelin on Glenn Anderson, the ice was clearly tilted to start Game #2.

While Moog was solid against his former mates in Game One, Lemelin had carried much of the load in leading the Bruins to their first Finals appearance since 1972. That being said, it was the guy at the other end of the rink, who would make a pair of highlight-reel stops later in the frame.

Apparently standing around and simply watching Edmonton do whatever they pleased wasn't the game plan after all, as the Bruins finally started to slowly turn the tide midway through the period.

Bob Sweeney was handed a glorious opportunity courtesy of the Oilers D parting like the red-sea, leaving the rookie with a wide open look from maybe ten feet out. Unfortunately for him, Sweeney made the error of trying to beat Fuhr on his glove side...rarely if ever a good idea.

Moments after bringing the crowd to their feet with a wonderful glove snag, #31 would take things to a whole different level, stoning Craig Janney with a desperation stick save and the Bruins a man short. The talented youngster went end –to-end before undressing defenceman Craig Muni with a gorgeous move just inside the Oilers blueline but Janney was unable to tuck the puck behind the All-Star netminder.

On night in which Fuhr would be asked to make all of ten saves, those two first period stops were as crucial as they come.

Before the period was out, Boston would make their fifth trip to penalty box, putting them down a pair of skaters and giving the Oilers an opportunity they simply couldn't pass up on. Seconds into Ray Bourque's high-sticking minor, Anderson would make amends for his early miss, re-directing a lovely slap-pass from #99 for his seventh of the playoffs.

Not exactly an ideal start for the Bruins but they could live with a one goal deficit heading into the intermission. Unfortunately, they were not quite done shooting themselves in the foot, as both Lemelin and Randy Burridge took penalties inside the final 1:19 of play and all of twenty-five seconds apart.

In what was a near carbon-copy of the Anderson goal, Messier would re-direct another Gretzky slap-pass with the Oilers on another two-man advantage, making it 2-0 for the home side. The goal marked the fifth time in five opportunities, in which Edmonton's power play cashed in on a five-on-three during the 1988 post-season.

There would be no change in scoring during period two and after generating all of seven shots through forty minutes of play, Boston badly needed a bounce to get back into this one. They would get the break they were looking for early in the third, thanks to softie from the Oilers starting netminder.

Thirty-five seconds after Don Koharksi dropped the puck at centre ice, Bob Joyce would make it a 2-1 game, as his shot somehow eluded Fuhr, giving the Bruins a much needed spark.

Despite playing much of the first and second periods shorthanded, O'Reilly's crew managed to keep themselves alive in a game they frankly had no right being in. Less than three minutes later, Kenny Linseman would get them back on level terms, banging home his own rebound, for his tenth of the post-season.

The feisty former Oiler wrestled himself free from Kevin Lowe long enough for a point blank opportunity but was turned away by spectacular sprawling pad stack from Fuhr. To his credit, Linseman followed up his initial shot and was in perfect position to pounce on the loose puck and slide home his first of the series. In three short minutes, Edmonton went from being in complete control, to complete chaos in their own end.

However, Sather's gang would quickly re-group and settle things down from that point. Boston would not get another shot on goal and very much like the opening ten minutes of the game, traffic was headed in one direction.

Enter Mr.Gretzky.

With Boston heading up ice on one of the rare occasions they actually carried the puck out of their own zone, Esa Tikkanen would strip rookie blueliner Glen Wesley of the puck at the visitor's blueline. After quickly gaining control of the puck along the side boards, Tikkanen would look up and see who else but #99 barreling in against the outgoing traffic. Gretzky took the pass from his skate to his stick, in a blink of an eye, before sliding his twelfth of the playoffs under the stunned Bruins netminder.

It was vintage Gretzky. Scoring the big goal when his team needed it most and capping off another three point night to boot.

Jari Kurri would put this one to bed with an empty netter in the final seconds, making it a 4-2 final and sending the series to Boston with the defending champs needing only two more wins, to earn their fourth championship in five years. By no means were the Bruins dead and buried but the Oilers had completely taken Cam Neely and company out of the equation at Northlands Coliseum.

Things would have to change in the friendly confines of the Boston Garden and in a hurry, for the Eastern Conference champs to have a chance of extending the series back to Edmonton for Game Five. Problem being...#99 and his mates were just starting to hit their own stride.