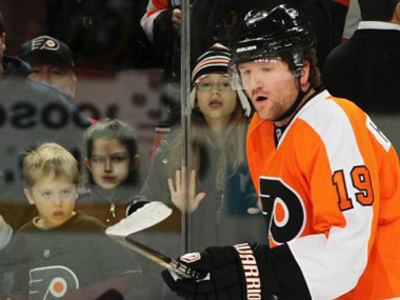 Edmonton - May 31, 2013 - It is no secret the Edmonton Oilers have always had interest in Philadelphia Flyers winger Scott Hartnell.

Apparently he was nearly an Oiler a few years back but former GM Steve Tambellini decided to not pull the trigger on a potential deal involving defenceman Sheldon Souray.

With new general manager Craig MacTavish looking to infuse some energy and a different dimension into his club's current makeup, perhaps the time has come to re-visit the possibility of acquiring the Regina native.

There is no doubt a player of Hartnell's ilk is exactly what Ralph Krueger's lineup needs. The former sixth overall pick has the ability to not only put the puck in the net but also make life rather uncomfortable for the opposition on a nightly basis.

While by no means a dirty player, Hartnell has always been willing to do whatever necessary to help his team win hockey games.

With the Flyers having missed the playoffs this season and on the verge of being in more than a little cap trouble heading into 2013-14, one would have to assume general manager Paul Holmgren would be open to making some changes to the look of his club.

All signs are pointing to Philadelphia using one of their compliance buyouts on veteran Daniel Briere this summer, as they look to create space to allow them to do some tinkering with their lineup.

Unless Holmgren can acquire a top flight blueliner in some sort of blockbuster deal, which seems rather unlikely, one would think the likes of Sean Couturier, Claude Giroux, Matt Read, Brayden Schenn, Wayne Simmonds and even Jakub Voracek, are almost untouchable.

While a thirty-one year old Hartnell would not score the Flyers the type of defenceman they are looking for, his availability could very well convince MacTavish to part ways with some of the Oilers young talent. There is no way any of Jordan Eberle, Sam Gagner, Taylor Hall, Ryan Nugent-Hopkins, Justin Schultz and Nail Yakupov would be made available in such a deal but one would have to think a Teemu Hartikainen and/or Magnus Paajarvi could be had and be a very nice fit in the City of Brotherly Love.

Paajarvi's size, speed and two-way game would be a solid addition to the aforementioned Flyers forward group, as would a bigger body like Hartikainen. Perhaps a deal involving both youngsters and possibly Nick Schultz for a package including Hartnell, Max Talbot and a draft pick, would interest both sides.

By taking on Talbot's $1.75 million hit for the next three years, Edmonton would hand Philly some extra cap space to use towards signing the trio of Couturier, Giroux and Schenn prior to the 2014-15 campaign. From the Oilers standpoint, the twenty-nine year old would certainly help with their lack of depth down the middle but also give them a bit of a security blanket, for the eventual departure of Shawn Horcoff...be it this off season or next.

Schultz would give Holmgren some much needed help on the backend for next season but also free up another $3.5 million heading into 2014-15. Both Hartikainen and Paajarvi are needing new deals but neither have done anything warranting big tickets. In moving out Briere, Hartnell and Talbot, Philadelphia would create about $12.5 million in space for next season, with roughly $7 million of that being ear marked for the trio of incoming Oilers.

Giving the Flyers GM an extra $5 million to further bolster his blueline, be it via free agency or another trade.

Hartnell's arrival in the Alberta capital would give Krueger some legitimate options inside his top six, for the first time since being named the Oilers bench boss. Be it leaving the trio of Hall-RNH-Eberle intact as his top line, with a Hartnell-Gagner-Yakupov combination making up the second line or possibly flipping Hall and Hartnell at even strength, to create better balance across both units. No matter how you break it down, the possibilities look rather promising.

Heading into what will be his thirteenth NHL season, the former Nashville Predator is starting a six year pact which will see him earn $28.5 million over the length of the deal. While his cap hit will be $4.75 million, the actual dollar figure starts out at $6 million in 2013-14, followed by three years at $5 million, one year at $4.5 million and $3 million in the final year of the contract.

Not exactly a small ticket by any stretch but Hartnell is not your everyday run-of-the-mill NHL player. The veteran winger is a six-time twenty goal scorer but is coming off an eight goal, eleven point campaign during the abbreviated 2013 schedule. Some may look at those numbers and point to him being on the downside of his career, where others, myself included, feel it had more to do with it being a poor season for the Flyers across the board.

While Edmonton could possibly be giving up on a fair bit of potential in Teemu Hartikainen and Magnus Paajarvi, at some point you need to take a risk. Craig MacTavish talked about making "bold moves" from the moment he took over from Tambellini as the Oilers general manager. Bringing in a player of Scott Hartnell's stature would be a step in the that direction and go a long way in easing the minds of Oiler fans everywhere.