Eakins will definitely have his work cut out for him as the Oilers new head coach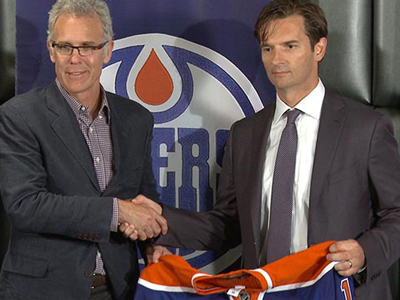 Edmonton - June 10, 2013 - Craig MacTavish made the worst kept secret in hockey official on Monday afternoon, naming Dallas Eakins as the new head coach of the Edmonton Oilers.

Eakins and the Oilers agreed to a four year pact, which will see the former Toronto Marlies bench boss take over a team that has now missed the NHL playoffs for the seven consecutive seasons.

After working on his craft for the past four seasons as a member of the Toronto Maple Leafs organization, the time had come for Eakins to make the jump to the National Hockey League.

Something MacT said he realized during his initial interview with the Marlies head coach and Oilers President of Hockey Operations Kevin Lowe and Vice President Scott Howson.

To be honest, this press conference almost mirrored last year's presser with Ralph Krueger. The focus was on a commitment to fitness levels, playing sound defensive hockey and having a team filled with players that are going to compete on a nightly basis. Again, those are things we have all heard before but have yet to see translated to the ice.

Eakins expects his players to be capable of playing multiple systems and change from one to another at a moments notice. That won't change in Edmonton. That being said, he appears to understand all players are different and need to be treated as such. The commitment to fitness and compete levels are non-negotiable but when it comes to dealing with guys on an individual level, it's a completely different ball game.

Everyone will be coming into this with a clean slate, coach included, but it will be up to the players to prove their worth to their new coach.

Eakins said he wants a team that carries themselves with a bit of swagger. Not sure about any of you but when I think of the most recent editions of the Edmonton Oilers, the word swagger doesn't come to mind. Outside the Chris Pronger led Oilers that made a run to the 2006 Stanley Cup Final, the word swagger hasn't been spoken around these parts since the late 80's/early 90's.

While everything was hunky-dory during the afternoon press conference, let's not sugarcoat things. There's no question the Oilers current roster has more than a couple of issues with it, something which MacTavish plans on addressing during the off-season. That being said, this squad is still quite young and learning their way in the National Hockey League...not exactly the best scenario for a rookie head coach to be placed in.

Dallas Eakins would strongly argue against that line of thinking, as this was the exact situation he was hoping to find himself in. For Craig MacTavish's sake, his new head coach had better be prepared to not only make a serious push for a playoff spot but probably secure one to keep the masses quiet.

After watching this team put together seven straight losing seasons, most Edmonton Oilers fans have no appetite to see that streak reach eight years.




8,399 Stories & Growing Daily...
To date OurHometown.ca has posted a total of 8,399 stories! News, sports, hockey, lifestyle, opinion and more!

Be sure to check out our Contributors and Columnists archives!
Click on Photo or Story Title for more info
OurHometown.ca News Database Last Updated:
Dec. 31, 2021 @ 8:03 AM EST