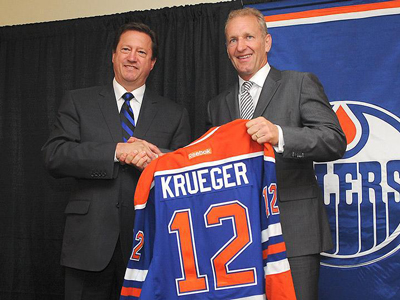 Edmonton - June 14, 2013 - It has been exactly one week since Ralph Krueger was relieved of his duties as head coach of the Edmonton Oilers.

While no one could blame Craig MacTavish for making the move and bringing in former Toronto Marlies head coach Dallas Eakins, everyone including the Oilers GM himself, felt Krueger was dealt a pretty rotten hand.

Unfortunately, very much like life itself, the world of sports isn't always about things being fair.

Having said all that, there appears to be a sentiment among some of the fan base and media alike, that felt Krueger's brief 48 game stint behind the Oilers bench, was in some way a step back for the franchise.

While everyone is obviously entitled to their own opinion, they could not be further off base.

For those that felt good ol' Ralph didn't get enough out of this club during 2013, I am not exactly sure what team they were watching.

Heading into the abbreviated 2013 season, I like many, felt the Oilers could finish anywhere from 8th-12th place in the Western Conference. In order for them to have any chance of making the playoffs, they would have had to have had a number of things go there way. Players who underperformed in 2011-12 would need to rebound with better years, while others had to take that next step in their development and start contributing on a far more regular basis.

Not exactly small tasks by any means but ones that would be next to impossible, should the injury bug hit as it has in each of the last number of seasons. However, with a short season and so many of their youngsters having played together during the NHL Lockout with the Oklahoma City Barons in the AHL and number of other key pieces having played throughout Europe, there seemed to be at least a glimmer of hope.

Unfortunately for Krueger, the results were somewhat of a mixed bag. The likes of Devan Dubnyk, Sam Gagner and Taylor Hall took steps forward, while Jordan Eberle and Ryan Nugent-Hopkins battled injury and saw their point total slip but actually made huge strides in their overall games.

Rookies Justin Schultz and Nail Yakupov were inconsistent but both showed flashes of brilliance and finished the season as far better all around players. Magnus Paajarvi rebounded from a rather tough sophomore season, showing he could contribute offensively when given a regualr spot inside the Oilers top nine forwards.

There are those who would suggest defencemen Jeff Petry and Ladislav Smid took a bit of step back, whereas I would argue they were just fine...considering they were badly miscast as Edmonton's top pairing. The pair had their fair share of hiccups but were by far and way, Edmonton's two best blueliners.

The injury bug reared its ugly head yet again, as Ryan Whitney continued to look like a shadow of the player he was during his first year in Orange Blue, a major blow to an already paper-thin blueline. The aforementioned injuries to Eberle and Nugent-Hopkins were a factor for much of the season, as were ill-timed knocks to Ales Hemsky and captain Shawn Horcoff.

Considering he got poor seasons from nearly everyone of his bottom six forwards, plus a handful of others on the roster, Krueger did a fairly decent job with this make shift group. With the exception of Schultz and Yakupov, the lineup was almost identical to the previous season's edition of the Oilers. That group finished 29th in league standings, this one ended up 24th.

In 2011-12, Edmonton were in the hunt early, thanks to an unconscious performance from Nikolai Khabibulin over the opening five weeks of the year, but they quickly faded and were nothing more than an after thought by the time Christmas hit. This year's club managed to not only pick itself up off the mat on numerous occasions but actually battled their way back to grab hold of the eighth and final playoff spot as of April 3rd.

For the first time in ages, this team put together a winning streak when it mattered. They actually showed some fight and climbed their way back into the playoff race, with a five game winning streak. This coming on the heels of a twelve game stretch that saw them go 3-6-3 and which pretty much pushed them out of playoff contention.

Now their performance during the final three and half weeks of the season were disappointing to say the least but the objective for the year was to be in the hunt. Regardless of how you cut it, this team accomplished just that. So how exactly was Krueger's tenure behind the Oilers bench a failure?

There are those that will point to the advanced stats and how badly the Oilers were out shot during the season, which is a valid point, but this team has been getting badly out shot for years. While shots on goal generally go a long way in helping determine overall scoring chances and puck possession numbers, they do not determine whether or not a team's season has been a success. Just go ask the Toronto Maple Leafs.

All I know, is Edmonton were being badly out shot as of April 3rd and were still sitting eighth in the West.

If anything, management set Krueger up to fail. How else can you explain not addressing a single solitary issue that ailed this roster following their 29th place finish? Then again, we are talking about Steve Tambellini. He was likely pondering the idea all summer long and throughout the lockout but simply could not make up his mind, so he decided to do absolutely nothing.

In all fairness, if you take into consideration Krueger only faced Western Conference opposition, his team actually did slightly better than Tom Renney's side the previous season. In 2011-12, Edmonton earned 55 of a possible 128 points against their conference rivals, while they took home 45 of 96 in 2013. Not a massive difference but still an improvement.

Just because his top line of Hall, RNH and Eberle had next to no puck luck as a unit and the collective group of Eric Belanger, Mike Brown, Ben Eager, Teemu Hartikainen, Darcy Hordichuck, Ryan Jones, Lennart Petrell, Jared Smithson and Ryan Smyth combined for a grand total of eleven goals, doesn't mean Krueger did a poor job.

What it does tell us, is that he had a flawed lineup to work with. That doesn't excuse any if the questionable decisions he would have made behind the bench but what coach doesn't make mistakes? In my opinion, for the first thirty-six games on the schedule, Krueger squeezed as much as he possibly could have out of this group. Plain and simple.

Craig MacTavish doesn't have to apologize to anyone for bringing in his guy to coach the Edmonton Oilers. It is his right as the general manager of the club and at the end of the day, it will be MacT who takes the heat, should the Oilers not turn out to be the juggernaut many expect them to become.

That being said, Ralph Krueger was not the problem in Edmonton and for anyone to suggest as much, is not only an insult to the job he did but just flat out wrong. Like Tom Renney before him, Krueger's main objective was to help develop these kids through the initial stages of their NHL careers, which is exactly what he did during his time as a member of the Edmonton Oilers organization.