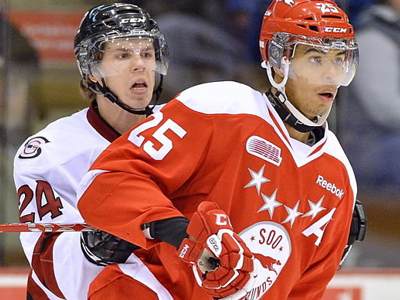 Edmonton - June 26, 2013 - After listening to Edmonton Oilers general manager Craig MacTavish talk about the upcoming NHL Entry Draft, during yesterday's pre-draft press conference, it looks as though the Oilers are leaning towards using their seventh overall pick in New Jersey.

While it's widely believed they will be targeting a centre with their selection, likely one of Elias Lindholm or Sean Monahan, head amateur scout Stu MacGregor may be forced to go in a different direction come Sunday afternoon.

Barring some sort of last minute wheeling and dealing, the top seven picks will go in the following order:

1)Colorado 2)Florida 3)Tampa Bay 4)Nashville 5)Carolina 6)Calgary 7)Edmonton

Obviously, the Avalanche have made it pretty clear, they are leaning towards taking Nathan MacKinnon with the first pick of the draft. Some think the Panthers will take his Halifax teammate Jonathan Drouin at number two but in my opinion, they take Seth Jones. Regardless of what Florida decides to do with their selection, one would think the Lightning would gladly take either at number three.

Which brings us to Nashville. Unless he finds his way inside the top three, there is absolutely no way the Predators do not take Finnish centre Alexander Barkov at number four. The Hurricanes would be next at five and this is where things could get very interesting and ultimately impact the Oilers. Should the Canes decide to keep their pick, some see them drafting a defenceman because of their lack of organizational depth along on the blueline. Fair point. That being said, don't count on it.

Carolina already have the likes of Alex Semin, Jeff Skinner and the Staal brother on their NHL roster but are still rather thin at forward. Adding a player like Lindholm, Monahan or perhaps Russian Valeri Nichushkin, would likely be to hard to pass up for general manager Jim Rutherford. Word is the Flames have their eye on Lindholm at six but should he no longer be on the board, you could pretty much bet the farm on them taking Monhanen.

Leaving Edmonton with the possibility of having no top rated centre to select but two players, in Nichuskin and Darnell Nurse, that could potentially fill a massive hole within the organization. There are those who would argue the big Russian winger is easily a top five talent in this year's draft and the Oilers would be crazy to not add the 6' 4" monster, into their already stacked but rather small top six.

On the other hand, there are whispers about the youngster, potentially, not having the necessary internal drive to push himself to be the player most feel he can become. He has shown inconsistencies in his play but pegging a kid as a certain type of player at eighteen, could be a little premature. Walking away from such a talent, could prove to be a rather big mistake.

With that said, how many high-end young skilled forwards can one team have? While Nichushkin would definitely bring a different dimension to the table, the Oilers do need to address their backend. While they do have a number of solid prospects within their system, outside of Justin Schultz and Oscar Klefbom, none appear to have the makings of top flight NHL defencman.

Nurse has exactly that and is considered by many to be the best defenceman available, next to Jones. His skating ability and 6'5" frame would be welcome addition to Edmonton's backend and while still considered a rather "raw talent" by some scouts, his all round game and athletic ability, have left many of those same scouts drooling at his possible potential.

While he does possess a heavy shot from the point, which played a big part in his forty-one point campaign with the Sault Ste. Marie Greyhounds, the eighteen year old will likely never be a big point producer at the NHL level. Most have Nurse pegged as a solid two-way guy, that could potentially eat major minutes in a shutdown role. He may not be as sexy a pick for some but could turn out to be a perfect fit for the Oilers.

There is no question the Edmonton Oilers would love to select a big centre with their seventh overall pick at the 2013 NHL Entry Draft in New Jersey. However, that option may not be in the cards come Sunday afternoon. Having said that, settling for one of Valeri Nichuskin or Darnell Nurse, may turnout to be pretty nice consolation prize.