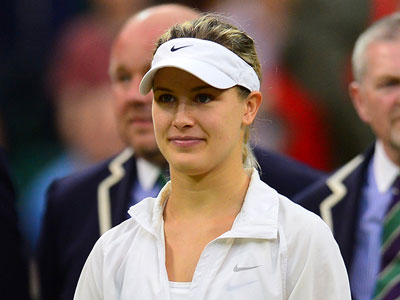 Edmonton - July 7, 2014 - It was the ending no one in this country wanted to see. Saturday morning was supposed to be the crowning achievement for what has truly been a meteoric rise to the top of the tennis world for one Eugenie Bouchard. After taking the All England Club by storm over the past two weeks and earning a spot in the Ladies' Final, the kid had absolutely no answer for what was an all out blitz from Petra Kvitova.

While there is no doubt the 6-3, 6-0 thrashing she received at the hands of the now two-time Wimbledon champ was tough for the twenty year old native of Quebec to stomach, these past six months have not only turned Bouchard into a household name across this great country but they have also transformed her into arguably the biggest international sports superstar that is not named Wayne Gretzky, that Canada has ever produced.

The youngster has literally become a world-wide sensation overnight, following her third consecutive appearance in Grand Slam Tennis semi-final. After stunning fans everywhere with her surprising placement in the final four of the 2014 Australian Open, Bouchard followed it up with encore performance at the French Open and took it a step further at Wimbledon. She is the new darling of the women's game and doesn't appear to be phased whatsoever with having to deal with the massive pressure that comes with the chance for fame and fortune that is now staring her squarely in the face.

Her ability to focus on nothing but herself and her game is downright staggering for a player her age and it has made her a favourite of many of the games past champions, both male and female. While expectations were in place for Bouchard to eventual develop into a quality player after putting together a very successful junior career, no one saw her going on the sort of run she has in 2014 and the scary thing about all of this…she just keeps getting better.

The combination of being in her first ever Slam semi-final and having to deal with the nerves of the moment was too much for the youngster to handle Down Under, as she was soundly beat by China's Li Na in straight sets, 6-2 and 6-4, on her way to the title. Heading into Australia, Bouchard was ranked thirtieth in the world but proceeded to become the talk of the tournament for both her play on the court and the debut appearance of the "Genie Army"...made up of a dozen boisterous Aussies, mostly men, who chanted crazily for the Canadian teenager.

She took her level of play to another level during the clay court season, arguably her worst surface, and proceeded to push Maria Sharapova to the limit in what was simply an outstanding semi-final at the French Open, dropping a hard fought 4-6, 7-5, 6-2 decision to the current Queen of Clay. It was a marked improvement from her "deer in the headlights" performance in Australia against Na and once again, she left the tennis world a buzz.

When the Women's Wimbledon draw was released, it looked as though Bouchard would be in tough to make it three semi-final performances in a row, with both Serena Williams and Sharapova on her side of the draw. However, both were upset the round prior to facing the hard hitting Canadian and to her credit, she took full advantage of the situation. The former Junior Wimbledon champ made it all the way to the Final without losing a set and once again, became "the story" the tournament, along with the rejuvenated play of one Roger Federer on the Men's side of the draw.

While she was impressive in dismissing a pair of top ten players in Simona Halep and Angelique Kerber during her quarterfinal and semi-final matchups, she was nowhere near good enough to compete against Kvitova for all the marbles. It seemed as though destiny was on her side, as both the level of her play and good fortune had many believing this would be Bouchard's time to grab centre stage and win her first major but instead we saw a kid be humbled in the biggest match of her young career.

Again, I have no doubt she was disappointed with the outcome but in all honesty, the manner in which she lost was probably the best thing for her. Eugenie Bouchard has made it abundantly clear her goal is to not only win a Grand Slam title but also become one of the best players in the game today. She expects a lot from herself and Saturday's throttling will only push her to be that much better. There is no time for her to feel sorry for herself. She will take some time off, work on the shortcomings in her game and likely show up in even better form for the US Open later this summer.

This kid has that special something inside her that very few athletes have...the talent, drive and willingness to do whatever is necessary to be the best she can. All that matters is winning...words we don't always hear out of our non-hockey athletes in this country. When you combine all of that with her looks and continual use of social media to connect with her fan base across the globe, and things have set her up quite nicely for her to morph into the next true superstar in the game. To be perfectly honest, if Bouchard doesn't become the face of women's tennis over the next couple of years I would be absolutely stunned.

Tennis has never been a sport that has truly caught the imagination of the masses in Canada but this young lady is about to change all that. Just like Christine Sinclair was able to turn herself into a National Treasure overnight with her brilliant performance against Team USA at the 2012 Summer Olympics, Eugenie Bouchard has just done the same thing for the game of tennis.

However, there is one major difference and that is the platform on which she is doing it. As big as the Olympic Games are, this is not a one off that comes around once every four years. As of this morning, Genie sits seventh in the WTA Rankings and is getting better with each and every tournament she plays. There are no words to describe what this girl is about to accomplish but Canadians had better get ready for the ride because it could turnout to be very special and something this country has never seen before.