| | |
| --- | --- |
| | |
Cincinnati Masters: Bouchard stumbles yet again but shows signs of improvement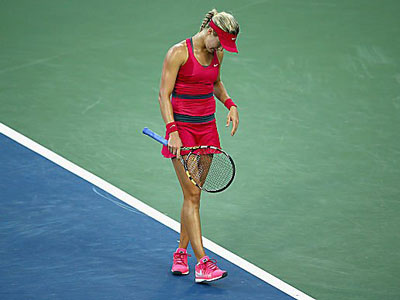 Edmonton - August 14, 2014 - After her shocking second round loss to Shelby Hunter at last week's Rogers Cup in Montreal, fans of Eugenie Bouchard were expecting the twenty year old to bounce back in a big way at the Western and Southern Open in Cincinnati, Ohio.

While the young Canadian played far better than she had in her own backyard, it was still not good enough to keep her from dropping her third consecutive match. There are those who will undoubtedly look at Bouchard's 4-6, 6-3, 2-6 loss at the hands of Svetlana Kuznetsova as some sort of major upset but it was actually nothing of the sort.

When you combine the fact Kuznetsova is coming off a tournament winning performance in Washington less than two weeks ago and Bouchard has been absolutely destroyed in the only two matches she has played over the past six or so weeks…maybe everyone should take a step back and consider this for what it is.

At the moment, these two players are going in different directions but after watching Bouchard rebound from what was tough opening set on Wednesday night, there is reason to be optimistic. Losing in the manner she did at the Rogers Cup clearly hurt her confidence and that carried into her match against Kuznetsova.

She looked lost from the very start and being broken in her very first service game only made it that much worse. To her credit, she never threw in the towel on the set and battled her way through it. Bouchard was rewarded for her efforts with a solid showing in set number two but in the end, the twenty-nine year old Russian was a little bit better.

People seem to forget Kuznetsova isn't exactly your "run-of-the-mill" player. While she is no longer in the prime of her career, we are talking about a woman who has two Grand Slam titles under her belt, has played in four major finals, has well over 500 career wins on the WTA Tour and is a former No. 2 ranked player. Heck she is still inside the Top 25 in the World Rankings and one could argue that injuries have played a massive role in the derailment of her career over the last handful of years.

Also, the two had only faced each other on one other occasion and it was Kuznetsova who came out on top with a 6-4, 6-1 victory earlier this year in Portugal. With that said, was a second round exit what Bouchard and her camp had in mind heading into Cincinnati? Obviously not but with how things played out last week in Montreal, the priority had to be on restoring her confidence.

One could argue that losing matches generally doesn't help a player regain belief in their game and ability to compete at the highest of levels but Eugenie Bouchard showed enough push back to convince me this will be nothing but a minor blip on the radar screen. Remember…they don't start playing for keeps until late August.



8,403 Stories & Growing Daily...
To date OurHometown.ca has posted a total of 8,403 stories! News, sports, hockey, lifestyle, opinion and more!

Be sure to check out our Columnists archives or, why not Contribute a Story yourself!


OurHometown.ca
offers a very generous revenue sharing opportunity for our Columnists. If you are interested in learning more details about writing for us, please send us an
EMAIL.

Click on Photo or Story Title for more info
OurHometown.ca News Database Last Updated:
Dec. 31, 2021 @ 8:03 AM EST