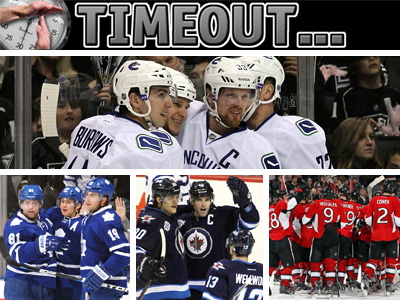 Cornwall - January 4, 2012 - In the inaugural edition of our 30 Second Timeout feature, we asked - Other than the Vancouver Canucks, what other Canadian teams will make the playoffs, if any?

Below you will find the responses from four of our columnists. Feel free to vote for your choices in the poll below.

Glenn Austen - It is a mixed bag (aside from the Canucks) when speaking of Canadian teams likely to make the playoffs. I say NO to Edmonton (12th) and Calgary (13th) in the Western conference. The Oilers, though highly skilled, are too young yet and the Flames too old. In the East, I say YES to Ottawa (6th), Toronto (9th) and Winnipeg (9th). The Senators are perhaps the surprise of the league, If all breaks well in Leafland, the playoffs may be more than a distant mirage the Jets, behind the strong play of youngsters Evander Kane and Blake Wheeler and strong goaltending continue to surprise. Montreal (10th) does not look anything like a playoff team with its inconsistent play.

Steve Minakakis - None. There's a small chance the Leafs or Jets make it in but that's unlikely. The only Canadian team other than Winnipeg currently in the playoffs is Ottawa, but unless they find a new number one goalie they will fall out of the playoff race too. Anderson won't cut it.

Chris Savard - Vancouver, Toronto and Winnipeg will make it in! Canucks are an obvious choice and will be cup contenders. Oilers will be the next Penguins, but not this year. Flames are just way too inconsistent. Montreal is a train wreck this year and it will get worse before it gets better. Ottawa will give it a good run, but in the end their goaltending will kill their chances. Winnipeg is the NHL Cinderella team, so they have to make it. Over in Leafs Nation, Brian Burke will make another big trade to propel the Blue and White to the dance.

Rob Soria - Vancouver was the only one I had in before the season started and nothing has changed. Edmonton and Calgary are not deep enough to make the top eight in the Western Conference. As for Montreal, Ottawa, Toronto and Winnipeg, they have all had the opportunity to build a cushion on teams like Washington, Buffalo and Tampa Bay but have failed to do so. That will cost them because I fully expect those three teams to sneak in with the Canadian teams and one of New Jersey or Florida left on the outside looking in.