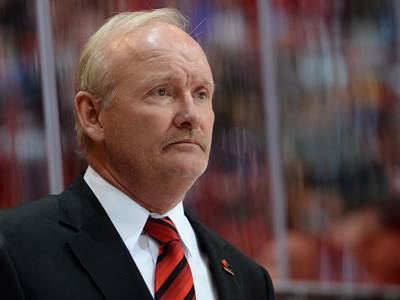 Cornwall - January 19, 2012 - In this week's installment of 30 Second Timeout we take a look at the controversy that surrounds the Buffalo Sabres. This week's question was, Should Buffalo Sabres head coach Lindy Ruff be fired?

Below you will find the responses from seven of our columnists. Feel free to vote for your choices in the poll below.

Phillip Blancher - Lindy Ruff absolutely should not be fired. At least, he should not be fired until the end of the season. The simple fact is that the team has been hit hard with injuries. Even Miller admits he's had a bad year so far. Vanek is in a slump and Buffalo's defence is not where it should be. These players are paid millions to produce on the ice and they are not. The team definitely needs a kick in the pants, but it's not time to throw in the towel on the coach, or the season, just yet.

Liam Carter - Absolutely not, Lindy Ruff has accomplished far too much during his thirteen year tenure as head coach of the Buffalo Sabres to be thrown out of the organization when the going gets tough. From an outside perspective it clearly seems as if a rift has broke out within that dressing room, and in my opinion it stems from the losing attitude of starting goaltender Ryan Miller. If I were Darcy Regier I would be actively pursuing any trade possibilities involving Miller as he has been nothing short of an enormous disappointment to this point in the season.

Dean Eastman -My short answer is no. The Sabres' season can still be saved. By removing Lindy Ruff, the Sabres are basically saying 'let's throw in the towel for this season' and focus on the team's future. Miller is not having his normal solid season, injuries to Derek Roy and Tyler Myers also have not helped. The Sabres need to find their identity first to get back into the swing of things. Had the team had an identity whereby teammates stood up for one another, I believe we would not see the Sabres in their current downfall. The Sabres are a better team with Lindy Ruff at the helm.

Steve Minakakis - I think it's a team issue in Buffalo. Too many overpaid, and some underachieving players. That reflects more on the GM rather than the coach. Miller's struggles just make matters worse. But it's hard to blame Lindy Ruff. He's only had one season below .500 and has coached the Sabres since 1997. The real question - is it time for a culture change in Buffalo? If so, then let him go. That being said, don't expect him to be without a job for a while because he's an exceptional coach.

Bill Payment - No I do not! I realize that goaltenders are a breed apart like quarterbacks and pitchers, but how does a goalie whining about being pulled out in front of his family and friends translate to "the coach has to go". Most of his comments were pointed at whether a trade was needed. That sounds like a shot at the press speculations and the GM at the outside. I remind all that Miller is deep into his second season of shaky play - none of this goes to the coach.

Chris Savard - Lindy Ruff is currently the longest serving coach in the NHL. No doubt he has been successful, as this year could end up being only his second losing season out of fourteen in Buffalo. As good as his teams have been in the regular season, they can't seem to get it done in the playoffs. If you read between the lines of Ryan Miller's comment, "There's no such trade that can fix this season," it implies that Miller doesn't think the solution rests with the players. As the saying goes, it is easier to fire one guy than eighteen. Time for a change!

Rob Soria - It is definitely time for Lindy Ruff to move on. The fact that he has stayed there as long as he has, with little playoff success, is rather baffling. Yes he has won 500 games and Buffalo are usually competitive but he has been there since 1997! At some point, all players tune out their coach but I can't even imagine what it's like for players in that locker room. If anything, this move should have been made long ago.