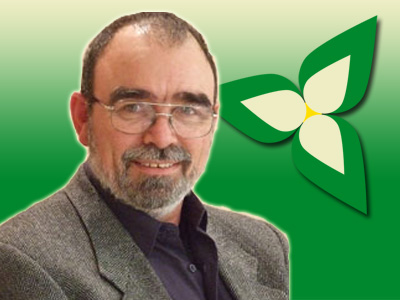 Cornwall - Oct. 1, 2011 - As the Libertarian candidate engaging in private conversations and in open forum debates with people, it has come to my realization that its always about the MONEY. Politics is people presenting competing economic ideologies regarding other peoples money. Who has the money? What is money? Where did it come from and where did it go? Why does our government, who makes our money, takes it back, by taxing it from us? Because its not our money!

We free people don't need to be legislated by legal tender laws to accept other peoples money. We are only forced by law to accept the governments' FIAT currencies because otherwise, we the free people would never accept the pretty toilet paper with dead politicians printed on pieces of paper as our money.

We voluntary accept from other people; IOU favours, donated time, seeds, (beans, peanuts, barley), tobacco, seashells, stones, rocks, arrow heads, daggers, points, air miles, lead bullets, copper, silver, gold and whatever is offered as free market money. In a free market, people have the freedom to stipulate how they want to be paid and what money they will accept as final payment. In our government controlled money market; Well we have lost our freedom to use our own monies.

The peoples real honest money does 3 things: It facilitates trade by acting as a go between real demand and real supply; It gives value to free trade, its worth one unit of account of a standard measurement such as weight, distance or time and it maintains that stored value (unit of account) over distance and time.

One gram of gold is / was worth one gram of gold tomorrow / today / yesterday and it is still worth one gram of gold in Ontario, or the rest of Canada, or in Australia. That's why free people have decided to accept FreeGold as freemoney for over 5,000 years. One gram is worth one gram everywhere all the time. One dollar is not worth a dollar. It just sinks in value compared to one glass of life preserving water.

Every few centuries, some governments decide to take control of the peoples money. They (governments) always end up producing poverty and misery for the free people after assuming control of money. Eventually the people have nothing left to loose and they rise up and launch revolutions. The French revolution was amplified by the fall Assignat fiat currency. What is happening to our looney? Just take a look at the short history Zimbawean Dollar.(Go wikipedia)

La Nouvelle France was given up during the revolution and we became Upper Canada, now Ontario. What are we going to give up during this present global revolution that we are now living in. The world governments fiat currencies are collapsing everywhere at different rates but all government money is dying. Who wants to transfer government issued legal tender fiat IOU nothing currencies to their grandchildren? Who wants their grandchildren to be government debt slaves by government issued legal tender legislation?

Not me! I want my money back! I'm revolting against my government in the most non-aggressive, peaceful manner that I know of; the peoples power to vote. My weapon of choice is a pencil check mark on a piece of paper.

On October 6, vote your choice!