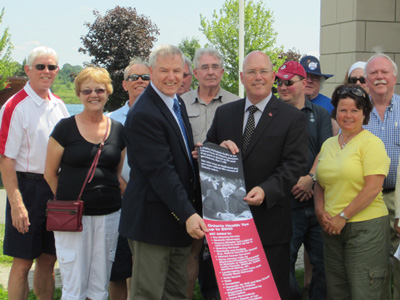 Cornwall - Jun. 23, 2011 - This past Monday, Steve Clark, MPP for Leeds and Grenville, visited Cornwall and Morrisburg. He presented me with a scroll that included a picture of Dalton McGuinty signing a pledge to the Canadian Taxpayers' Federation before the 2003 election. It read, as follows:

I, Dalton McGuinty, leader of the Liberal Party of Ontario, promise, if my party is elected as the next government, that I will: Not raise taxes or implement any new taxes without the consent of Ontario Voters.

The commitment was great news for the Ontario taxpayer and helped sweep the McGuinty Liberals to power. Unfortunately, it didn't take long for them to renege on their promise, by bringing in the largest income tax increase in Ontario's history, with the introduction of the health tax. When pressed on the signed commitment, he went to court against the Canadian Taxpayers' Federation to prove that he wasn't legally committed to live up to his signed contract. Before the 2007 provincial election, he again publically promised that he would not raise taxes, if he was re-elected. Once again, he initiated many tax increases, including the largest sales tax increase in Ontario's history, the HST. In fact, the scroll includes over 100 new tax and fee increases. It is little wonder that he is called the Taxman.

With an election just months way, Dalton McGuinty is once again promising the people of Ontario that he will not increase taxes. The best way to judge someone is from their past history and it tells us that the McGuinty Liberal government will raise your taxes. For example, his cabinet ministers have already been publically discussing a carbon tax on energy. When is enough, enough?

The only way to stop the Taxman, is to replace him with a Tim Hudak Progressive Conservative government. Under our Changebook platform, Tim Hudak is committed to removing the HST from your hydro and home heating costs, eliminating the Debt Retirement Charge on your hydro bill and lowering your personal income. A PC government will cut the over-regulation that is killing jobs in Ontario and bring the change needed to make Ontario a "HAVE" province again and a provincial leader in Canada. For more information, please visit www.mcdonell.ca.