John Bolton and his View from the West - First Edition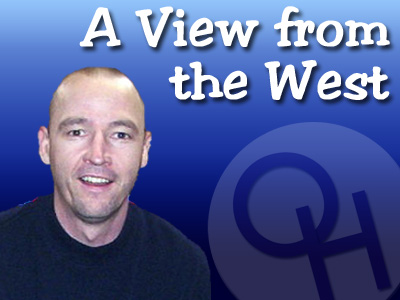 Strathmore - March 1, 2012 - I'd like to start by thanking Chris Savard for allowing me to vent on occasion on the Our Hometown website. It is definitely a great honour.

Which brings me to recent comments by Cornwall's CFO Maureen Adams. They are what I would expect from city administration. What was it Ms. Adams said? I paraphrase... if we trim $700,000 from the budget we may have to cut services. Pretty typical, eh? What's the first thing to go... pools? A bit of advice to politicians, threaten to cut something else, using pools is a bit of a cliché these days. By the way, you're slipping. You forgot to threaten police and fire services too. I'm inclined to think a couple less lawsuits might have avoided this problem altogether.

Looking back at Ontario from a distance is certainly interesting. Here in Alberta people complain about the $3 billion dollar deficit, which is a pittance by Ontario standards. Meanwhile back in Ontario, you're standing in the middle of an economic disaster and many of you don't even see it. Premier Dalton McGuinty does, but he just blames it on Alberta. No worries, the Progressive Conservative Party is waiting in the wings to clean up the mess. I only hope Tim Hudak is up to the task. I predict Hudak will replace Mike Harris as the most evil politician in Ontario history. That's normally what happens when someone has to come in and clean up the left wing mess.

For the conservatives in Ontario who long to get rid of Dalton and his tax and spend stink, you might consider moving out to Alberta where the Progressive Conservative Party has been in power for 40 years. It's bizarre to think the main complaint about the PC's in Alberta is their leader, Premier Alison Redford, is too liberal. She is, but the voters here would revolt if she pushed this province too far left. It really is heaven on Earth. Heaven on Earth with no provincial sales tax or HST. The only downside to the PC dynasty? 60% of the people don't vote in provincial elections (the worst voter turnout in Canada). They don't think voting matters because the PC's always win. A trend Danielle Smith and the upstart Wildrose Party hope to change.

To wrap things up. Things are going great here. I've been filling in on The Rob Breakenridge show on QR77 in Calgary. It's a current events talk show from 9 to 11pm weeknights that is simulcast on CHED in Edmonton. I hope to continue working there from time to time. Sheila and I are doing great and enjoying the mountains. You're welcome to come out and visit. Even though my life is now here, I think of Cornwall often. I miss everyone there very much.


8,399 Stories & Growing Daily...
To date OurHometown.ca has posted a total of 8,399 stories! News, sports, hockey, lifestyle, opinion and more!

Be sure to check out our Contributors and Columnists archives!
Click on Photo or Story Title for more info
OurHometown.ca News Database Last Updated:
Dec. 31, 2021 @ 8:03 AM EST