City Council should consider sweeping up goose poop with a handy grass sweeper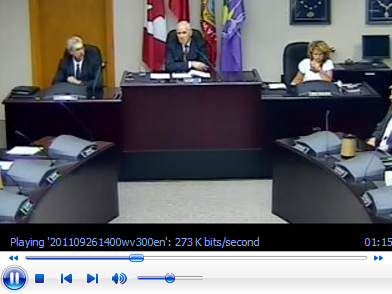 Strathmore - April 12, 2012 - It has been a fun week in Alberta, but I've had my eyes on you Cornwall. Here are a few of the things that have had my attention.

- Former Councillor Mark Mark MacDonald suggests City Council should cut back to eight councillors from the current ten. While not an original idea, Mark is absolutely right. Kingston, a town with four and a half times the population, has 13 members on its council. City Council... are you listening?

- Council will never vote in favour of fewer Councillors. They're too afraid of additional work on committees.

- Talk of fewer Councillors brings up another question. Should the city consider the ward system? I know Councillor Thibault lives near my old homestead in Cornwall. Just think how nice it would be for people who live north of the 401 to have Councillor Thibault working to get a fire station in their ward.

- In my column on March 22nd I suggested City Council look into opening a casino. At Council on Tuesday night they decided to move forward with the idea. Glad I could help.

- Did you know you can watch a webcast of City Council on the city website? Does that mean TVCogeco isn't covering Council anymore? Somebody let me know, I don't get TVCogeco in Alberta.

- Last week I wrote...

"A smart non-profit organization would be setting up a penny collecting fundraiser right now."

Congratulations to Habitat for Humanity Seaway Valley for being smart. They are attempting to collect 10 million pennies. That's a lot of copper... $100,000 worth. Good luck.

Habitat for Humanity Seaway Valley to collect ten million pennies to build a home - OurHometown.ca

- Now that Council has decided to install noise equipment to keep geese out of the park, be prepared for Water Street residents to complain about it.

- I e-mailed everyone on Council with another idea on how to handle the geese... live with them. Just sweep up the poop with a handy grass sweeper. Apparently my suggestion was mentioned. What do you think?

Watch the Video

- Let's make this the last time we discuss geese in the park.

- If I was a diabetic I would be outraged right now. Syringes that ensure you live a healthy life aren't fully covered by your health care program, but soon your tax dollars will help drug addicts inject themselves with heroin.

More: Welcome to the Big Syringe: Warmington - Toronto Sun

- In the Province of Ontario taxpayers can't legally put safe products on their lawn to kill weeds, but taxpayers might be paying for sites so junkies can inject poison into their veins. It's total insanity.

- The David Suzuki Foundation calls Alberta and Saskatchewan 'laggards' because they aren't doing enough to fight global warming. It's because they produce energy and Suzuki doesn't like oil. Without the two aforementioned provinces and the energy they produce, Canada wouldn't enjoy the social programs it has. I have a suggestion for Mr. Suzuki and everyone reading this. The next time you fill up your tank with gas... kiss the pump.

- Remember when Peter MacKay was considered a suitable replacement for Stephen Harper?

- I'm going to like this. Right now sunset in Calgary is almost 45 minutes later than in Cornwall.

- Quote of the Week:
The only difference between a tax man and a taxidermist is that the taxidermist leaves the skin. - Mark Twain

- If you've got a comment, beef or suggestion just click the button below. I'd love to hear from you.


8,399 Stories & Growing Daily...
To date OurHometown.ca has posted a total of 8,399 stories! News, sports, hockey, lifestyle, opinion and more!

Be sure to check out our Contributors and Columnists archives!
Click on Photo or Story Title for more info
OurHometown.ca News Database Last Updated:
Dec. 31, 2021 @ 8:03 AM EST