Sad that Lynch believes it's fair to take money from those who earn it and give to those that don't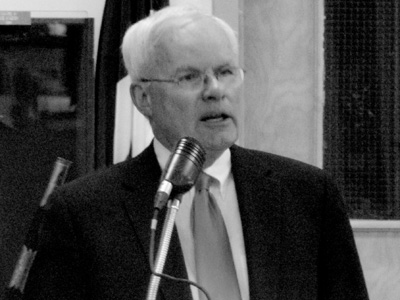 Strathmore - April 28, 2012 - It has been a fun week in Alberta, but I've had my eyes on you Cornwall. Here are a few of the things that have had my attention.

- Now that Cornwall city council has apologized to Councillor Andre Rivette, let's put an end to the Gong Show on Pitt Street.

- I'm wondering if anyone on council can make a definitive decision on anything? On Monday night council passed a trial period to allow e-bikes on the bike path. I'm surprised they didn't hire a consultant to make the decision to enact a trial period for riding e-bikes on the bike path.

- Calgary has an extensive bike path system. You can ride around and across the city without ever having to cross a busy road. As cycling friendly as the city is, they don't allow e-bikes on their paths. That's because they're motorized vehicles.

- Andre Rivette and new councillor Gerry Samson voted against e-bikes. Well done.

- What do you get when you allow a 180 pound motorized vehicle (not including the rider) on an 8 foot wide path designed for walkers and bicycles? I'm not going to answer the question... I'll just bring it up when it happens.

- Try this when you're on a business trip. Book a hotel room and then cancel it, but make sure you pay the penalty of a night's stay. Book another room far enough away from your place of business to have to hire a limousine at a cost of $1000 a day. Throw in a few other expenses, including a $16 glass of orange juice, and see how long you have a job. That's what International Development Minister Bev Oda did and she should be fired because of it.

- On second thought, Bev Oda shouldn't be fired for misusing taxpayers money, she should be fired for stupidity. Mr. Prime Minister, it's your move.

- One of the good things about living in Alberta? Even when the projected right leaning party doesn't win, a right leaning party wins.

- Liberal voters... are you ashamed yet? S&P ratings agency puts Ontario on credit watch; Moody's did same last fall - Winnipeg Free Press

Yeah, I know, it's Mike Harris' fault.

- I paraphrase Ronald Reagan... "Government doesn't tax too little, government spends too much". Something NDP leader Andrea Horwath and Premier Dalton McGuinty should have read before they raised taxes on "the rich" and cancelled corporate tax cuts.

- McGuinty promises he'll spend the money raised from hiking the taxes on people earning $500,000 or more on paying down the deficit. At one time didn't he promise not to raise taxes?

- How sad to hear and read comments from people like Brian Lynch, who suggest it's fair to take money away from people who earn and create wealth to give it to people who don't.

- The solution to the growing income gap? Earn more money.

- The reason the left talks about the income gap? Class warfare.

- On Tuesday May 1st (International Workers' Day) thousands of anarchists, union thugs and left wing lunatics, under the guise of the Occupy movement, will cause havoc in the streets of North America. Property will be destroyed and people will get hurt. The organizers of the mayhem will blame it on the police. They're lying and need to be arrested.

- What would you do to the Quebec students who are ramping up violence because they're entitled little minds don't like paying the lowest post secondary sfees in the country? I'd round up the trouble makers and tell them they have forfeited their school year and next year too. Treat them like children and send them to bed without their supper.

85 arrested after Quebec protests turn violent - Globe & Mail

- On Twitter the other day. A new bumper sticker... 'I'm not a racist, I don't like Biden either'.

- Have a great week. If you have any comments just click the button below.


8,399 Stories & Growing Daily...
To date OurHometown.ca has posted a total of 8,399 stories! News, sports, hockey, lifestyle, opinion and more!

Be sure to check out our Contributors and Columnists archives!
Click on Photo or Story Title for more info
OurHometown.ca News Database Last Updated:
Dec. 31, 2021 @ 8:03 AM EST