If Lougheed is Canada's best Premier, McGuinty is surely its worst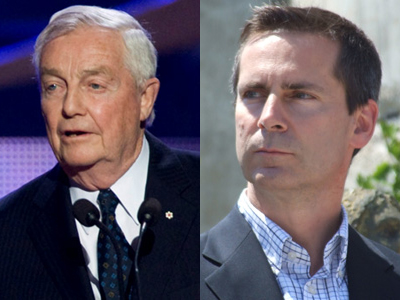 Strathmore - May 6, 2012 - It has been a fun week in Alberta, but I've had my eyes on you Cornwall. Here are a few of the things that have had my attention.

- I hear Cornwall city council will be participating in some sessions on how to improve relations around the council table and with city administration. That's great, but maybe they should have done this 18 months ago.

- OurHometown.ca writer Phil Blancher has a great column this week about plans and the failure to implement them. Which begs the question... Whatever happened to the plan to build an arts centre in Cornwall?

- A big thank you to Andre Pommier for his work at the corner of Pitt and Second. This is how you turn tragedy into triumph. Plus, that corner is getting a much needed face-lift.

- I'm not sure what makes me happier. The first full year of a Conservative majority or three more years of driving the left crazy.

- The Liberals are still digging for votes in the 2011 election. I think they need to start focusing on the next election and stop trying to win the last one. Related story: Liberals say election mailout to Jewish community might have led to illegal voting - Ottawa Citizen
- How embarrassing is this? The NDP are waiting with open arms to welcome back Omar Khadr, but are up in arms over the return of Conrad Black. Black throws bombs at the left in his newspaper articles, Khadr throws them for real.

- Former Alberta Premier Peter Lougheed was voted as Canada's best Premier in a recent survey. Lougheed, who is responsible for the dynasty of the Progressive Conservative Party was an overwhelming choice? Ontario's Bill Davis came in second. Full story: Alberta's Peter Lougheed easily tops list of Canada's best premiers -The Gazette

- I'd be interested to see who gets voted as the worst Premier in Canadian history. Sometimes you don't have to go back too far. I know who I'd vote for, do you have any suggestions?

- I have a family doctor in Alberta. I mention this because I spent years on a waiting list for one in Ontario.

- The best healthcare experiences I've had in Alberta and Ontario were at private clinics.

- Look up 'hubris' in the dictionary and you'll see Barack Obama's picture. The other day on the anniversary of the killing of Osama bin Laden he actually said, "The goal that I set -- to defeat al Qaeda, and deny it a chance to rebuild -- is within reach." Obama set the goal? Hey, Barack! Ever hear of a guy named Bush?

- The quote of the week goes to my namesake John R. Bolton, former US Ambassador to the UN. He said, "Obama taking credit for killing bin Laden is like Nixon taking credit for landing on the moon."

- Now that the Occupy Wall Street movement has fizzled into a big nothing, can we stop talking about these losers?

- US Congresswoman Gabrielle Giffords gets shot by a lunatic and who gets the blame? The Tea Party and Sarah Palin. Five Occupy Cleveland anarchists plot to blow up a bridge... nothing to see here.

- Oops! I'll bet you didn't read this in the MSM. Wind farms can cause climate change, finds new study - The Telegraph

- People will say things on-line that they would never say in person. Which reminds me of a Latin saying I never forget. 'In vino veritas', which means, 'in wine there is truth'. I think the phrase needs an update to... In Twitter veritas.

- Just a reminder the Bike-a-thon Plus is coming up on May 26th. Get involved to help the Children's Treatment Centre. I'll be riding the event this year in Alberta. My ride will take me from Cochrane to Canmore to Banff (103 kms). You can sponsor me and find out more here.

- Quote of the week: "The trouble with Socialism is that eventually you run out of other people's money" — Margaret Thatcher

- I've got lots to say, how about you. Click on the handy button below to send your comments.


8,399 Stories & Growing Daily...
To date OurHometown.ca has posted a total of 8,399 stories! News, sports, hockey, lifestyle, opinion and more!

Be sure to check out our Contributors and Columnists archives!
Click on Photo or Story Title for more info
OurHometown.ca News Database Last Updated:
Dec. 31, 2021 @ 8:03 AM EST