Cornwall's waterfront is underdeveloped and underutilized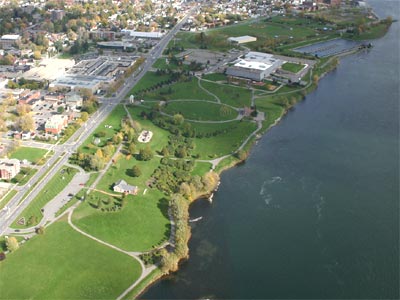 Strathmore - June 25, 2012 - I'm going to do something a little different this week with my webspace and focus on one of my favourite Cornwall topics... the waterfront.

It's no secret that I am fully in favour of making some major changes along the St. Lawrence. Cornwall's waterfront is underdeveloped and underutilized. This would be the effect of the creation of the Seaway over 50 years ago. To suggest Cornwall got screwed with that deal would be an understatement. Cornwall missed the boat (literally and figuratively) when traffic on the Seaway got shuffled south of Cornwall Island. The loss of revenue and marine development has been evident ever since. Cornwall's waterfront should be a gathering area for more than a Lift-Off weekend and when the Jehovah's witnesses come to town. Fire a gun in the park on a hot summer afternoon and the only sentient beings that will hear it will be the geese scaring the dogs from the park. Now is the time to move forward and get behind some real change in the city.

I'm pleased to see Cornwall's Waterfront Development Committee is getting down to business to decide what to do along the river. Make sure you have your say when the committee is seeking input. Years ago I joked that I would put an amusement park in Lamoureux Park if it would bring people to town, but a more responsible development is in order. Keeping Lamoureux Park pristine is a wise move, but there's a great opportunity to develop east and west of that area. A few years back Chuck Charlebois, while working with the Renaissance Group, provided some amazing plans of what the former Domtar property could look like with a good mix of residential, commercial and recreational planning. That property was integrated into the waterfront with canals to allow boats to access the river. The Cornwall Warehousing building east of the park had been made into a market and other old decrepit buildings had been revitalized. The Weave Shed is an indication of how, if done right, buildings can meld with the nature along the river. People who visit Lake Placid can appreciate how that community ensures what is built compliments the natural environment. You'll notice the same thing when you visit Canmore and Banff here in Alberta.

If I had my way I would do everything possible to re-open the canal. Imagine how a lift lock located just west of the new low level bridge would thrill tourists and boaters. How opening the power dam to boats would create traffic on the river to visit a newly built restaurant or hotel. How downtown businesses would benefit from the people who would wander downtown to have a drink or bite to eat after stopping for the night at the expanded marina. How control of the water in the canal in the wintertime would allow Cornwall to open a huge ice rink that would draw thousands to the waterfront. Anyone for a huge ice hockey tournament? Sure it would cost a lot of money, but the payoff would be huge not only for the city, but for upper levels of government. Imagine how a campaign to get funding for a re-opened canal could revolve around the historical significance of Cornwall and the Seaway. How does 'Rebuilding Cornwall's Past' strike you for a motto?

Naturally the boo birds are out in full force decrying the efforts of committee members and council to move Cornwall into the same league as other waterfront communities. Too bad those same people aren't out in full force in the park enjoying it. The same bunch spent time complaining about the aquatic centre and Benson Centre too. Life in a city built by these folks wouldn't have pools, parks, ice rinks, ball parks, soccer pitches and every other form of recreational facility. There's one other thing the city would be without... people. It's the pools, parks, ice rinks, ball parks, soccer pitches and every other form of recreational facility that brings people to a city. I guess having a nice view, keeping the population sign at 46,000 and maintaining the status quo (that would be stagnation) is worth it to them.

To the non-politicians on the committee... thanks for volunteering. You obviously have strong feelings about what you want your city to be and have strong ideas about developing the waterfront. I have no doubt that's why you got involved in the first place. Rally the people to your cause because it's the right thing to do. These things don't represent a cost, but an investment. The boo birds will always be there complaining while the park sits silent and people with vision act. Good luck.

I'd love to hear what you think. Click below to send me a message.


8,401 Stories & Growing Daily...
To date OurHometown.ca has posted a total of 8,401 stories! News, sports, hockey, lifestyle, opinion and more!

Be sure to check out our Contributors and Columnists archives!
Click on Photo or Story Title for more info
OurHometown.ca News Database Last Updated:
Dec. 31, 2021 @ 8:03 AM EST