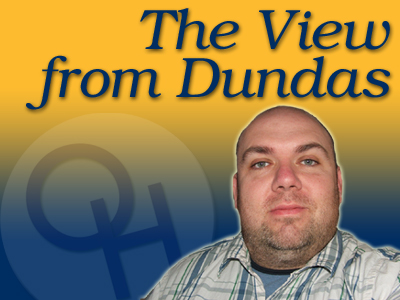 South Dundas - May 1, 2012 - We have a pandemic facing municipalities in Eastern Ontario; over-planning. Local governments are as addicted to planning as they are to hiring outside consultants. This over-planning is costing municipalities in wasted money spent and in the constant churn of indecision which keeps the status quo at the forefront.

Where I live in the Township of South Dundas, council has spun it's wheels planning for so long, some residents are starting to think its a good political strategy to avoid having to make a decision. Previous council, the 2006-10 edition, had the biggest and most-heated public consultation on the waterfronts of Morrisburg and Iroquois that has been seen in the 14 years since amalgamation. Consultants were hired, flashy presentations were done, lots of tax money spent. In the end the report had some "big ideas" which some liked and others, not so much.

As a new council is not bound by the policies and decisions made by its predecessor, the current council, three members of which served on that previous council, decided to form a new Waterfront Committee to study the issue again. Council went so far as to split into two waterfront committee's, one for Morrisburg and one for Iroquois. That decision undermined the insistence that the two townships and two villages merged to form South Dundas was one big happy family, all in it together.

(Full Disclosure, this writer currently serves on the Morrisburg Waterfront Committee.)

Now there are two unconnected groups trying to come up with plans to do something with the waterfront in two unconnected areas of the same township, that share the same river. Looking back through the many plans of yore, there have been many good ideas have been presented. If any of which, had they been implemented, would have been an improvement over what there is now. It's been 53 years since the St. Lawrence Seaway opened and the only reason why nothing has been done, is a lack of will.

This doesn't just affect the waterfront, but with the township's "Official Plan" process. A series of "cafe" consultations were held in March 2012, polling many of the same residents who were polled about the waterfront, and other issues. In the end, the consultants will create a document with a plan to be given to council to implement. Will the township implement any of them? That plan will likely sit on a shelf next to the old plan completed 10 years ago. How much of that plan was put into action?

Cornwall has the same issues with their planning. Their waterfront committees have been struck in one form or another for 30+ years. The waterfront is still the same as it was then. The only real change has been a splash pad added, and the museum moved to the west end of Lamoureux Park. Why were those plans not put into action? A local radio station managed in 60 days of interviews, discussions and call-in shows to get a pretty good package together of what people in Cornwall wanted, what they needed, and some ideas of how other comparable cities in Ontario did. Ask residents in Sarnia or North Bay how successful their plans were. You can, because they went from plan to action and made it happen.

Some Cornwall City Councilors were commenting about the lack of a centralized bus station in the city. A simple idea would be to get the parties to agree to bring their three bus lines to one terminal at the Via Rail Station, making it a transportation hub. That would require a plan though, meaning it will never get done.

One of the most upsetting issues in all of this is how much money has been spent on consultants to do this planning. Why are consultants being brought in to do this? Why can't municipal staff look at the issue and come up with a plan without hiring some firm to do it for you? Do staff not have computers anymore? Telephones to make phone calls, websites to post polls on?

If you look at the money spent just in South Dundas for their "Official Plan" planning and for the 2006-10 Waterfront "Plan", that figure would come close to $100,000, maybe even over that amount. Meanwhile in 2011, a group of local residents, seeing a chance to do something good in South Dundas, managed to raise $113,000 to build a brand new playground in Morrisburg. They did it in under four months. That same group of people are planning for a splash-pad to go in next to that new playground in a few years too.

Local people, making a plan, then doing something. What a novel concept. Why can't municipal councils do that? Perhaps the real question is, why won't municipal councils do that?