| | |
| --- | --- |
| | |
Will Kathleen Wynne be Ontario's Paul Martin?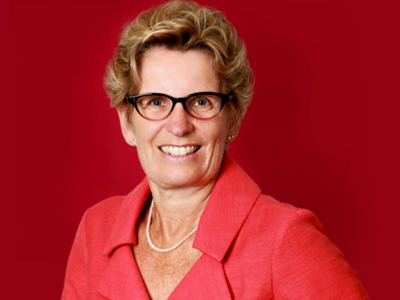 South Dundas - January 29, 2013 - In the coming months, premier-designate Kathleen Wynne risks becoming the Paul Martin of Ontario politics; a short term, scandal plagued, "Fall Guy" for the McGuinty machine.

Think back to 2003 when Paul Martin was crowned leader of the Federal Liberal Party and subsequently became Prime Minister. The shroud of Teflon which insulated his predecessor Jean Chretien from scandals such as Ad-Scam, was ripped away like a band-aid. Martin did this himself by calling a public inquiry into Ad-Scam, the Gomery Commission. For Martin, this was the final thumb-in-the-eye to an old political rival, and it doomed him politically. As Justice Gomery conducted his commission, Martin's honeymoon as Liberal Leader ended quickly. By the time the Gomery Commission's final report was issued, the writing was on the wall. The Opposition Parties pulled the plug on Martin and he was voted out of office on January 23, 2006.

Luckily for Wynne, she was never a political rival of Dalton McGuinty. She has no axe to grind with her former boss. This is an important point for her post for the near term. Wynne was a loyal cabinet minister under the McGuinty government. She dutifully took any job that was asked of her and served her boss (though not necessarily the taxpayer) well. McGuinty's departure was not an ouster of a rival in a thinly-veiled power grab, unlike Martin. McGuinty ran before he could get tarred with the scandals that occurred under his watch.

Those who do not learn from history are doomed to repeat it. NDP Leader Andrea Horwath has indicated what her price is for continued support of the Wynne-led minority Liberal government, a public inquiry. Horwath wants a public inquiry called over the two gas-powered generation stations that were cancelled on the eve of the 2011 provincial election. What she wants is for Wynne to call her own Gomery.

If Wynne wants to stay in the Premiers office, calling an inquiry into the wrong doings of her predecessor is the worst thing she could do. McGuinty was an autocrat. He ruled and had a hand in each any every major decision that occurred during his time as Premier. Ripping off McGuinty's Teflon shroud in the forum of a public inquiry will only damage her chances of keeping power and maybe winning her own mandate in a general election. Those who do not learn from the past are doomed to repeat it.

Some thoughts on the convention

Watching along as convention goers voted for the new leader of the Ontario Liberals on Saturday was exciting if you enjoy the game of politics. Besides watching the news channels on TV intermittently, I had Twitter on and it was amazing to see how fast the dynamic changed between the second and final round of voting. Newsies and delegates were on Twitter, tweeting up a firestorm. "Kennedy is going to Pupatello," said one twitter. "Kennedy is going to Wynne," said another. "Sousa is drinking a coffee," said another. The only way I can describe the constant, changes and schemes and play-by-play commentary that was abuzz on Social Media is to like it to watching NHL hockey. Except that instead of sitting there watching a single game, you are watching 15 hockey games at the same time, no channel hopping either.


I saw a reporter from CP24 interview a pair of delegates of Sandra Pupatello's campaign, ten minutes after Eric Hoskins and Gerard Kennedy crossed over to Kathleen Wynne. They were saying the words, that they thought Pupatello was still going to win, but their body language said that they knew it was over and she had lost.


On Pupatello's loss. Good on the membership for "sticking it" to the party brass. Many of the higher ups in the Ontario Liberal Party supported Pupatello which made her the early frontrunner. She certainly had a good political machine including many McGuinty loyalists working for her. Yet she still lost. More affirmation that Dalton McGuinty was definitely past his "Best Before" date.


Will Wynne's gender or sexual orientation matter to Ontario voters when it is election time? I don't believe so. What is going to matter to most voters will be how much is each party's platform going to cost the taxpayer. Where Wynne's gender or sexual orientation will matter is after an election loss, if she does lose. The lefties will beat on their drums that Ontarians rejected Wynne because she's a woman, or that she's gay, or both. What they will fail to recognize is that if Ontarians reject Wynne and the Liberals, it is because they reject what Dalton McGuinty has done to the province.


8,401 Stories & Growing Daily...
To date OurHometown.ca has posted a total of 8,401 stories! News, sports, hockey, lifestyle, opinion and more!

Be sure to check out our Contributors and Columnists archives!
Click on Photo or Story Title for more info
OurHometown.ca News Database Last Updated:
Dec. 31, 2021 @ 8:03 AM EST