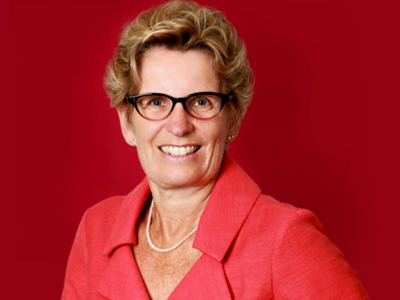 South Dundas - May 30, 2013 - Dear Readers, we've been bought. Bought off with our own money. Premier Kathleen Wynne and Pseudo-Premier Andrea Horwath, the unofficial leftist-alliance running this province, have bought us off with our own money. Doesn't it feel nice?

Pseudo-Premier Horwarth extracted concessions from Wynne, and as such has agreed to let the minority Liberal government's budget sail through Queen's Park. In exchange for NDP support, auto-insurance premiums dropping sometime in the future, more government money to create non-jobs for students, money sometime for home care and a few other bags of magic beans. Meanwhile Ontario will get an increasing budget deficit, record energy prices, more government debt, and no accountability.

So were we bought with our own money, or sold up the river by the Ontario NDP?

Auto Insurance rates in Ontario have gone up approximately three-to-five per cent on average each of the last five years. That's more than the rate of inflation, but not obscene. According to Kanetix, an online insurance rate comparison site, a key factor in auto insurance rates going up was the amount of claim fraud occurring during the same period. Up 24 per cent. Obviously to the Pseudo-Premier, Andrea Horwath, this is the biggest issue facing Ontario though. But wait, during budget time in 2012, wasn't skyrocketing electricity prices the biggest issue facing Ontarians?

And wasn't electricity rates an issue in the 2011 Election. Wasn't removing the 13 per cent Harmonized Sales Tax on energy costs the number ONE platform plank for the Ontario NDP? Has all of that been fixed so that the biggest issue facing Ontarians is auto insurance rates?

Both the short and long answers to this is, No. Electricity costs are skyrocketing and it is only going to get worse. Taxpayers don't even know what the true cost of electricity is, but what is known is down right scary. The province is buying electricity at 80.2 cents per kilowatt hour (kWh) from MicroFit producers and selling it to users for 11.9 cents/kWh. Solar farms are selling electricity to the province from anywhere between 30 and 44.1 cents/kWh, wind farms for 14 to 40 cents/kWh. These get sold by the Province again, at 11.9 cents/kWh. Due to the way the contracts are written, and provincial legislation, the province has to purchase the Green Energy first, and shutter power plans like the turbines at Niagara Falls; which by the way, costs approximately two cents/kWh to generate electricity.

So the province is subsidizing our electricity costs by charging us only 11.9 cents peak time, buying green generated power at 30 to 80 cents/kWh and we let cheap power spill away unused, or pay the province of Quebec six cents/kWh to take it off our hands. These subsidies can't last because they are bankrupting the province, but the pear-shaped contracts McGuinty locked us into will.

The changes to energy costs that were issued under the McGuinty regime had the goal of Ontarians pay the "true cost" of electricity. This is why we have smart-meters and time-of-use rate-tiers. So what happens when the government decides to stop the subsidy? Lights out! Ontario has the highest energy costs in Canada, likely in North America. End the subsidy and what will be left of the province?

Plus you still pay 13 per cent Harmonized Sales-Tax on your energy bill. Thank you Dalton McGuinty.

If the HST isn't off energy bills yet, AND the electricity rates are going up at rate much higher than inflation, why is the Pseudo-Premier caving into the Liberals over auto insurance rates?

In the end we've been sold up the river by the NDP. Now the Wynne government will get to survive for another year and we all get to pay for it.