The ultimate goal of personal finance is to become financially independent
Edmonton - June 20, 2012 - The ultimate goal of personal finance is to become financially independent. While there is no set definition for reaching financial independence, I like to think of it as reaching a point where you have saved enough money to live off for the rest of your life. In other words, you're free to do what you want, where you want, and when you want. It is never too late or too early to start thinking about retirement. It's not easy and it takes time but the earlier you start planning for the future the easier it will be.

Here is the first tip to help you become Financially Independent.

Step One: Do you know your FIN?

One number could make or break your goals for the future. It's called a Financial Independence Number (FIN). This number is the key to how you will spend the rest of your life. It outlines what your financial obligations are including your expenses during retirement.

This calculation is used to help you see how the choices you make every day affect your future. You can't know how close you are to your goals, if you haven't calculated how much you'll need to reach them. The Financial Needs Analysis is the first step to reaching financial freedom. To calculate your FIN you will need the following information:

- What age you want to retire;
- How much you have saved currently;
- An Understanding of the Andex Chart;
- Current inflation rate of 3.8%;

If you bought a kitchen table in 1950 for $100, the cost of that table taking in consideration the 3.8% inflation will cost you $1009.80 today for the same exact table. In 2030 it will costs almost $2000.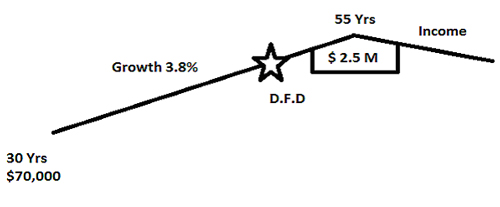 If you are a family or individual at age 30 that makes $70,000 a year with no money saved and you want to retire at age 55, you will need to make approx. $258,000 per year in 2040 to have the same purchasing power (money in your pocket) as you have today at $70,000/Year.

Household - $70,000/Yr
Age - 30
Inflation - 3.8%
Retirement Age - 55

So therefore your FIN is $2.5M (Million). This is how much you will have to have saved when you are retired to live comfortably. Sometime along the way we are going to also hit our debt freedom date (D.F.D) at which time we can start to save even more money and put it into savings for retirement. Contact Trevor for your free Financial Needs Analysis today at (780)910-6431 or via email trevorbutt@ymail.com


8,401 Stories & Growing Daily...
To date OurHometown.ca has posted a total of 8,401 stories! News, sports, hockey, lifestyle, opinion and more!

Be sure to check out our Contributors and Columnists archives!
Click on Photo or Story Title for more info
OurHometown.ca News Database Last Updated:
Dec. 31, 2021 @ 8:03 AM EST