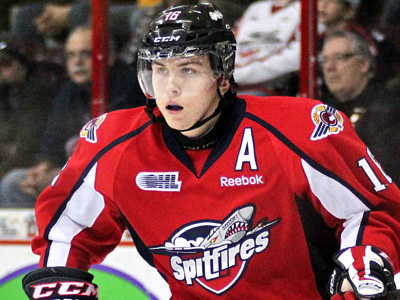 Windsor - December 2, 2013 - Windsor Spitfires captain and first round pick of the Columbus Blue Jackets, Kerby Rychel has been been invited to attend Canada's National Junior Team selection camp, beginning Dec. 12 at the MasterCard Centre for Hockey Excellence in Etobicoke, Ont. He is one of 25 Canadians to make the short list.

The 19 year old left winger from Tecumseh, Ontario currently has 16 goals and 39 points with his hometown junior team.

The roster includes two goaltenders, eight defencemen and 15 forwards. Canada's final roster for the 2014 IIHF World Junior Championship in Malmö, Sweden, will include 22 players, and must be finalized by Dec. 25.

"Hockey Canada is looking forward to an extremely competitive camp in December, as we look to assemble a team that will make all Canadians proud," said Scott Salmond, Hockey Canada's senior director of men's national teams and hockey operations. "This is a first step towards naming our roster for the IIHF World Junior Championship. We look forward to the camp getting underway."

In regards to eligible players currently in the NHL, Hockey Canada will continue to communicate with NHL teams and is hopeful players may still be made available to Canada's National Junior Team.

The 2014 IIHF World Junior Championship will be broadcast on TSN and RDS, Hockey Canada's official broadcasters. Check local listings for broadcast times in your area.