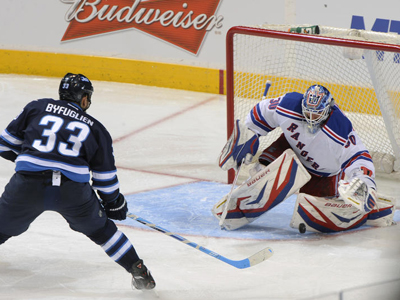 Edmonton - December 2, 2013 - What is more depressing? The Jets are in a must win situation already or that it occurs in DECEMBER?

Winnipeg comes into this game a little banged up but rested. The Rangers have been playing .500 hockey for a while and both clubs have the same amount of points. The only difference? The Rangers hold down 8th spot in the east, the Jest are 12th in the west and need to start winning...NOW.

Memories are a funny thing. They can be recalled by sight, smell, or hearing an odd or familiar sound. I have to admit, my memory stinks for the most part but there are little vague snippets that come into play every once in a while. There are two games in particular that I remember are from the mid 1980's. The first one was a Saturday night game against Toronto and Dale Hawerchuk owned the puck. Seriously, it was an amazing hockey game for an Ontario boy coming home and lighting up the home town team.

The second happened in New York on Feb 22, 1985. I remember it for several reasons. One it was a rare road game that was actually televised. Back then, you only saw out of market games in major centers. Two, I had a hockey game that night and before our game started our team was in the lobby of the rink watching the Jets light up the Rangers. Whenever I think of the Rangers, I think of that night. Fond memories from a chilly winter night in Winnipeg.

80's hockey is long gone, 12-5 games do not exist anymore. It seems to me that almost every game that is played now is close, and I'm sure the NHL loves that. It would be very beneficial to the team though to have a laugher, get the two points, and head off to Florida in a good frame of mind. Lose tonight though and the weekend games will not hold as much significance. Tonight holds the key for this trip, it can either be the turning point of the season or the continuation of mediocrity.

Evander Kane looks doubtful for tonight. According to the Winnipeg Free Press' Tim Campbell, Kane did not take the morning skate and the Jets have recalled John Albert from the minors. Kane has slipped to 7th in team scoring which blows my mind, but his impact on the team when healthy cannot be understated. A team already thin on depth cannot afford the loss of such an impact player. Hopefully he can return for the weekend.

Ondrej Pavelec is the likely starter for the Jets, although that hasn't been confirmed. He will be facing Cam Talbot who has a blistering 1.49 GAA and a .944 SV%. Those are red hot and unsustainable numbers. That being said he has started 8 games this season and has NEVER surrendered more than 2 goals. Quick, hands up anyone that knew who Talbot was that isn't related to him? Jets need to jam the crease and create some ugly in order to be successful tonight. Game time is 6.00 CST and can be seen and heard on TSN.