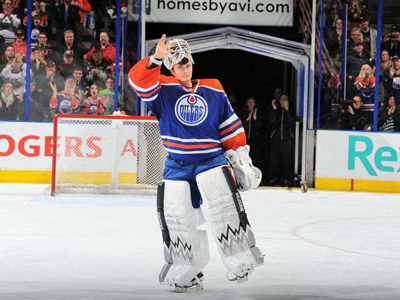 Edmonton - January 30, 2014 - As far as regular season games go, last night's 3-0 victory for the Edmonton Oilers over San Jose Sharks was far from your typical evening at Rexall Place.

While the trio of Jordan Eberle, Taylor Hall and Ryan Nugent-Hopkins combined for a total of seven points in the win, this was one turned into one of those magical moments for one Ben Scrivens.

The twenty-seven year old managed to not only pick up his second consecutive win but did so in style, setting a franchise record with 59 saves in earning his fourth shutout of the season.

When a goaltender is peppered to the degree Scrivens was, the automatic assumption is to think it was a one man show.

While he made a number of highlight reel stops, he arguably received as much defensive support as any Oilers goaltender has this season, It does seem like a rather odd thing to say when the shot clock ended up reading 59-27 for the Sharks but that doesn't the change the reality of the situation.

Obviously, that says a thing or two about this group's ability to play in their own end of the rink but they are finally starting to show signs of improvement. Did they make mistakes? They sure did but for one of those rare occasions, they decided to battle down low and help their goaltender out. When was the last time any of us can remember seeing that many players sacrificing their bodies around their own goal crease?

The last time an Oilers team played with that much desperation in their own end of the rink was during the 2006 Stanley Cup Final run. It's almost impossible to compare a regular season game to playoff hockey but the one thing that has been desperately missing from this team's repertoire over the last number of years, has been a willingness to sacrifice for one another.

We saw it last night.

In my mind, Edmonton didn't play poorly last night…San Jose is just that good. They had the puck from the opening faceoff and kept it for much of the night. That said, the Oilers fought hard and road the hot hand of a goaltender that was in the so-called "zone". As Scrivens' correctly alluded to during his post-game scrum, his teammates did keep most of the Sharks shots to the outside. That said, when you give up 59 shots against to a team as talented as Todd McLellan's crew, you are going to give up your fair share of quality scoring chances.

Scrivens made a number of key stops throughout the night and managed to bring some major energy to the building by having a handful of those being of the ten-bell variety. In the game of hockey, few things can bring a crowd to its collective feet like an unbelievable stop from your netminder and the Spruce Grove native gave them that opportunity on a number of occasions.

During his first three appearances in Oranges and Blue, Scrivens had shown a tendency to pull himself out of position from time to time. There was no sign of that against the Sharks, as he seemed to track every single puck fired his way and was positionally sound from start to finish. It's rather funny how playing goal becomes far easier when you are in the right spot and get a little help from your friends. Lost in all the hoopla surrounding the former Toronto Maple Leaf playing the game of his career was yet another three point night for Taylor Hall. Despite San Jose being the far better team, the Oilers created chances of their own and much of it came courtesy of #4. Hall now sits tied for eleventh in league scoring with 54 points, ninth in assists with 35 helpers and eighth in the entire NHL in points per game.

Next to Scrivens' unconscious performance in between the pipes, perhaps the most impressive showing of the night was the top line's third period effort. They were downright dominant nearly every time they hit the ice over the final twenty minutes, as Eakins rode his horses over the final frame and it paid off in spades.

It's always nice to see your best players raise their level of play at crunch time but even more impressive when it occurs against one the National Hockey League's elite teams. The win was Edmonton's third straight and final game on home ice prior to the Olympic break. With how this season has gone, sending their fans home with a night to remember was the least this group could do.