The Good, Bad, and Ugly - Playoff Edition: Round Three, Game One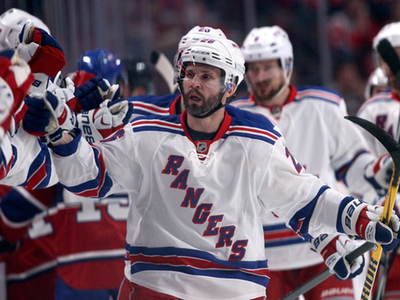 Montreal - May 18, 2014 - We got our asses kicked all over the ice - Rene Bourque

Try to look on the bright side.

Maybe it's all downhill for the Rangers after their 7-2 opening day whipping of the Habs at the Bell Centre. NewYork could not have possibly drawn up a more perfect scenario:

- Score the first goal
- Inspirational leader Marty St. Louis scores the day before his mother's funeral
- Take the Bell Centre crowd out early
- Score on the power play
- Rick Nash ends his playoff goalless drought
- Henrik Lundqvist exorcises his Montreal demons


The only down note to the Rangers win was centre Derrick Brassard getting knocked out of the game during his second shift when he was hit by Mike Weaver. Brassard clearly hurt his shoulder. But even then, former Hab Dominic Moore - and inspiring story in his own right (Moore's wife Cathy passed away last year at the age of 27) - slipped into Brassard's role seamlessly and help set up the first two New York goals.

Can the Rangers get better? They're riding a real high wave right now. Montreal has to figure out how to stop it before it reaches Lake Michigan or the California coast.

Meanwhile, the Habs are just thankful they're done with afternoon games (0-4 & outscored 16-7 in 2014). And wondering - does Chris Kreider fly by night?

THE GOOD

• Lars Eller-Brian Gionta-Rene Bourque. Trio accounted for both Montreal goals. Bourque took two early penalties but made up for it in the second period when he cut into the Rangers two goal lead.

• Max Pacioretty. One of the few Habs who looked ready to play. Forced Lundqvist into his most difficult saves. But the Canadiens are going to have to do a better job of swarming the net in front of him.

• Mike Weaver - Nathan Beaulieu. Habs' third defense pair looked ok.

THE BAD

• Almost everybody. Andrei Markov and Alexei Emelin were terrible. Bad pinches, bad execution. And both looked very slow. Tomas Plekanec and Thomas Vanek looked like they had never played together. Early in the game, when it was still scoreless, Michael Bournival had an open path to the net down the left side but elected to pass to a well covered Vanek. It resulted in a turnover and moments later St. Louis beat Carey Price up high to set the tone for the afternoon. The Rangers transition game is much quicker than Boston's. It's up to Michel Therrien and his staff to adjust to this reality but at the same time - as Therrien alluded to post-game - no amount of adjustments will work if the players don't pay attention to detail. He was hopeful his team would be "more alert" in game two. Maybe they can start with stronger coffee.

• Special Teams. The Habs - with some help from former Ranger Brandon Prust - made a bad power play look like the Soviet Red Army team. What was a strong PK unit has suddenly dipped to just 75% in the post season, by far the worst of the 4 teams remaining (Chicago 91.3%; Rangers 84%; LA Kings 83.9%). And while Montreal had only one power play while the game was still close it was a timely one. Brian Boyle hauled down P.K. Subban behind the Montreal net just three minutes after Bourque's goal had narrowed the New York lead to 2-1. The Habs generated very little offense. It was Carey Price who provided the biggest lift when he got his glove on a Matt Zucherello shot after a feed from that guy Kreider on a two on one. Moments later Prust and Dale Weise broke in on a two on one the other way but Lundqvist grabbed Prust's slapper. Seventeen seconds later Kreider broke in alone after Emelin was caught napping and Daniel Briere inadvertantly chipped the puck to Rick Nash in the neutral zone. Nash then fed Kreider in full flight who finished the play - and ultimately the game - when he beat Price to the stick side.

• Ryan McDonagh has a four point afternoon but he's not named one of the three stars? Why bother naming 3 stars? Let's change the tradition and make it easier for the people who clearly struggle with this. One guy. Star of the game. C'est tout.

THE UGLY

• Carey Price. Down on the ice. In obvious pain. You don't often see a player on a breakaway go into the net skates first. You can see Price grimace when his right pad gets caught behind the post after Kreider bowled into him. "It looked like an accident" said Therrien. Probably so. But maybe in game two Kreider gets introduced to P.K. Subban's backside. And maybe Alex Galchenyuk gets introduced to the 2014 playoffs.
3,468 Stories & Growing Daily...

To date HometownHockey.ca has posted a total of 3,468 hockey stories!

Be sure to check out our Columnists archives or, why not Contribute a Story yourself!



HometownHockey.ca

offers a very generous revenue sharing opportunity for our Columnists. If you are interested in learning more details about writing for us, please send us an

EMAIL.
Click on Photo or Story Title for more info
HometownHockey.ca News Database Last Updated:
Apr. 28, 2022 @ 11:52 AM EDT